Temperature monitoring system
The Temperature Monitoring System provides a continuous measurement of the temperature of the grain inside the silo. Any temperature variation in the grain is automatically detected for quick action avoiding grain loss.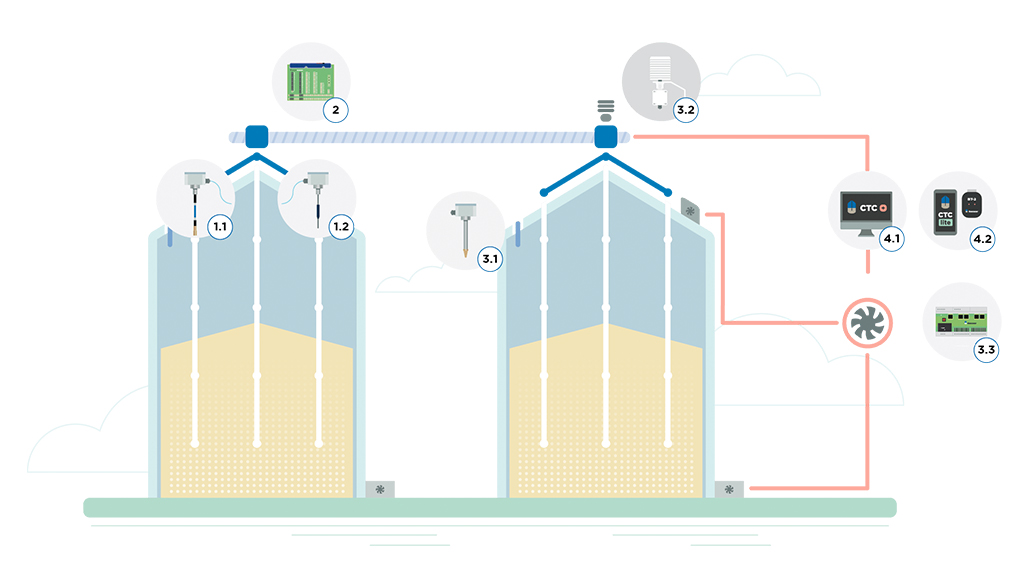 1.1 Temperature probe
1.2 Temperature and humidity probe
2. Electronics box
3.1 Anti-condensation Probe
3.2 Weather station
3.3 Relay module (fans ON / OFF)
4.1 CTC+ software
4.2 CTC lite App
Level sensors
Silos can be supplied with a wide variety of level sensors, with different ATEX certificates. Maximum / minimum sensors and continuous measurement sensors.
Capacitive sensor
Characteristics
For max and min measurement
External light signal
Installed in the cylinder or hopper
Vibration sensor
Characteristics
For max and min measurement
Installed on roof or cylinder or hopper
Radar sensors
Characteristics
For continuous measurement
Installed on the roof of the silo
Sweep augers
Sweep augers are designed to remove the remaining material in flat bottom silos after gravity discharge. It begins once the gravity discharge has finished with a 360º turning and rotating movement.
Motor inside the silo
Little space required
Simple model
Motor outside the silo
Good performance
Easy maintenance