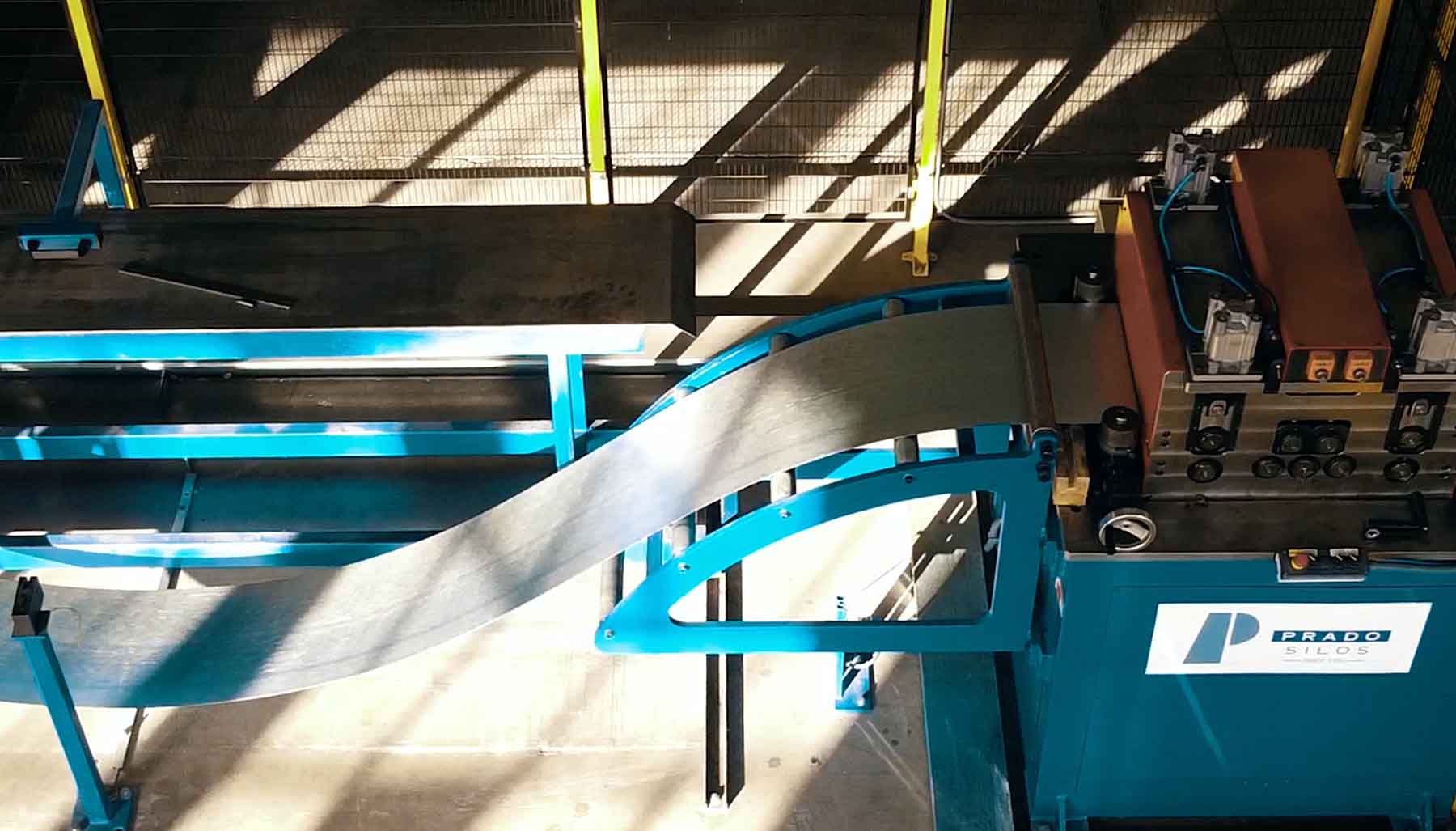 When a client requires a large-scale storage solution, they are not just looking for a high-quality silo. Every customer seeks a unique silo: the key to silo manufacturing is the ability to meet the specific needs of each project, quickly and at competitive costs. In order to achieve the highest guarantee in terms of quality, availability and service, Prado Silos offers the exclusive advantage of fully controlling the manufacture of each and every element of a silo, from start to finish.
Compared to other types of silos, the galvanised steel silo is characterised by its light weight, short building time, good tightness and excellent durability, considering its price. This is the ultimate large-scale storage solution: in many industries — logistics, grain storage, oilseeds, biomass, as well as agri-food for animal feed — the steel silo has become an indispensable tool for the storage of bulk materials. As a result of its performance and effectiveness, the manufacture of steel silos has replaced almost all other types of silos.
Each client is looking for a dedicated silo: the key to silo manufacturing
Given that a silo is a product intended for large-scale projects involving a wide range of players, when purchasing a steel silo  the client demands quality and commitment first and foremost. How to achieve maximum quality in silo manufacturing? The only possible solution involves comprehensive process control: from the first sketches to the delivery of the finished silo, Prado Silos produces each element of a silo, according to the specific requirements of each client, thus making each silo unique.
This flexible operating model based on in-house manufacturing of each element of a silo allows Prado Silos to move through design, product development engineering and production phases quickly and easily, always meeting the individual requirements of each client, with no intermediaries. If project needs dictate, specifications can be rapidly adjusted to meet technical or market changes almost immediately.
Silo manufacturing from A to Z: comprehensive process control
With its own production plant located in Trápaga (Biscay, Spain), with 4,000 m² dedicated to manufacturing (and a 3,000 m² warehouse guaranteeing a continuous stock of top quality steel), Prado Silos provides the most flexible and competitive lead times in the silo manufacturing industry, with a processing capacity of 30,000 tonnes of steel per year.
The cylindrical structure of a silo is made of corrugated galvanised structural steel panels. How to meet all requirements of each project effectively with the highest quality? For example, the roof of a silo represents a very complex element whose design, manufacturing process and equipment depend on many factors that must be carefully studied together with the client. For this reason, Prado Silos runs its own production lines to manufacture each and every single element that makes up the silo, from the bottom to the structure, as well as the accessories, auxiliary systems, aeration, etc.
Technology to serve silo manufacturing
When achieving maximum quality in each silo, plate forming is an essential process that requires exhaustive control of every detail. Depending on each type of silo, its features and the specifications of each client, Prado Silos manufactures all the elements guaranteeing the highest levels of quality and accuracy, using in-house automated parameterisation software to monitor the whole forming process.
Thanks to in-house silo manufacturing, there is an immediate capacity to react and communicate with the client. For example, being able to detect an unexpected event, find the best solution for the customer and solve it instantly at Prado Silos' own plant is not the same as being forced to stop the production of parts in another location, where the problem has to be checked on site.
Experience and traceability: added values in silo manufacturing
The experience and know-how of Prado Silos' staff, the most veteran silo manufacturer in Europe, are constantly evolving alongside the latest automation and silo manufacturing technologies, such as laser cutting: a technique using thermal energy to separate metal sheet parts with the highest precision and speed, as no cutting dies are required for the manufacture of parts, thus avoiding further processing such as stamping or sanding.
In addition to the benefits offered by in-house manufacturing of all the elements that make up a finished silo, Prado Silos conducts exhaustive quality control at all stages, applying traceability processes integrated within the management process itself, making it possible to know what happens at each step of the production, so that appropriate measures can be taken, either to promote good practices or to correct a potentially problematic situation.
As Europe's most experienced silo manufacturer, Prado Silos finds the best solution for each project and brings it to life in-house, in its own facilities, with automated production lines equipped with the latest technology ensuring the highest quality in silo manufacturing, for any client, anywhere in the world.