Investing in a farm silo is a wise decision
Investing in a farm silo with the latest technology designed by a producer with decades of experience is a wise decision. The new silos guarantee an advanced storage solution, optimized resource conservation, higher operational efficiency and a tested approach to quality and performance.
Thanks to the knowledge acquired over generations and a close contact with each customer to meet all their needs, the Prado Silos farm silo translates into a significantly positive impact on the productivity of any farming operation.
Farm silos represent an essential solution for safe and efficient storage of different types of grain, animal feed and prepared feeds for livestock. For decades, Prado Silos has been building up its know-how to offer a wide range of silos with capacities to suit the specific needs of each individual client, anywhere in the world. Ranging from small family farms to large agricultural ventures, the Prado farm silo line is designed to meet the particular demands of each type of operation, thanks to a wide range of customisation options: capacity, stored material, accessories, equipment, access methods…
Close contact with each client allows for the ideal farm silo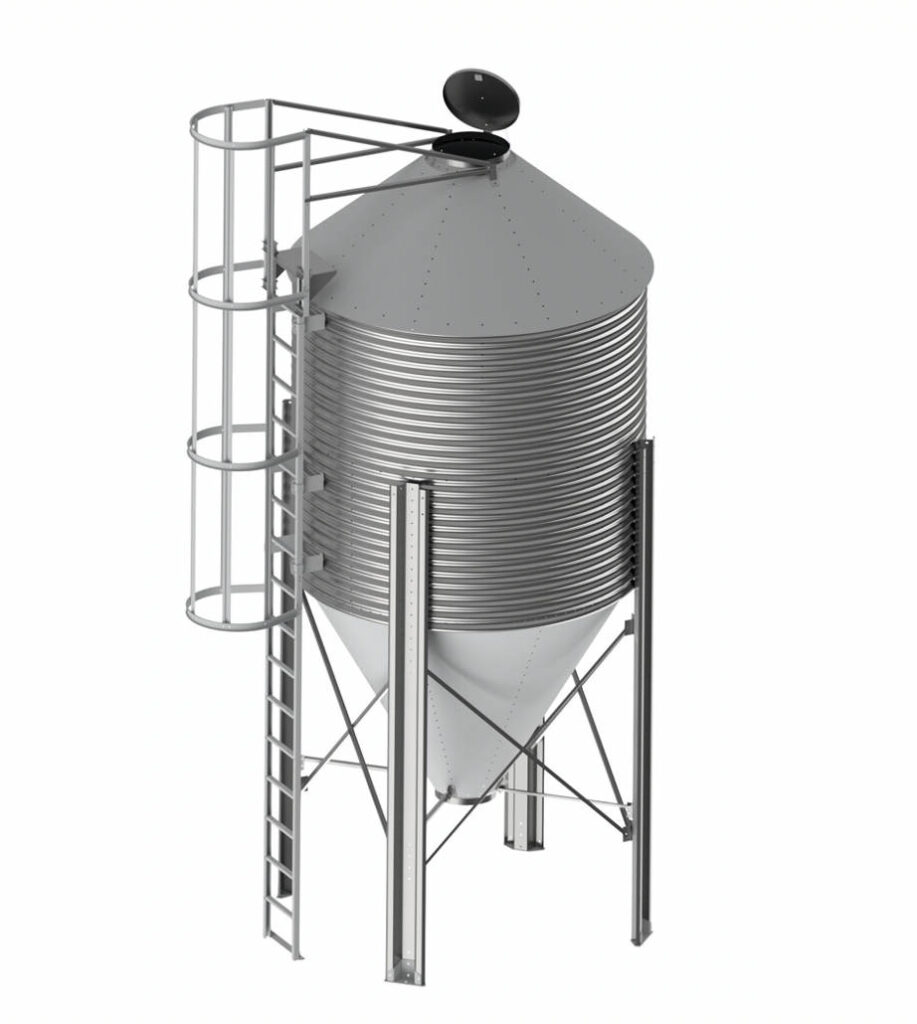 But what does this mean for our clients?
If you are looking for a smaller silo, it means you can choose the size that best suits the amount of material you want to store without wasting space or overloading the structure. Smaller silos are ideal for producers dealing with lighter activity or looking to store different types of grains separately. Larger capacity silos, on the other hand, are an excellent choice for big operations and farms with higher volume seeking for a centralised and efficient storage solution.
So why invest in a new farm silo?
With the new generation of farm silos, livestock farmers benefit from safe storage solutions for animal feed, ensuring that feed and mixed preparations for cattle are always in optimum condition. In addition, new farm silos generally tend to offer a longer service life with less maintenance, which may result in long-term savings and greater peace of mind for the operator in terms of storage quality and reliability of the agricultural production.
At the core of each project, constant communication with every client takes the lead: Prado Silos helps to evaluate the short and long term use of the silo together with the client, helping to assess what configuration of accessories may each operation need, how best to deploy them, and how to meet the storage needs of a specific farm.
Farm silos: a highly evolved product with decades of technological development
Prado Silos is the most experienced silo manufacturer in Europe . Over the years, the company has built up an extensive catalogue of silos for farms, designed with a range of different capacities and manufactured entirely in its state-of-the-art facilities, combining high quality materials with advanced technology, thus guaranteeing maximum durability and safety for the stored goods. Prado Silos builds its products using galvanised steel highly resistant to corrosion, which provides effective protection against the elements and ensures optimal preservation of stored grains for long periods of time.
At the same time, at Prado Silos the design and engineering of each silo is carefully tailored to the specific requirements and characteristics of each project, thereby ensuring their ability to withstand even the most adverse climatic conditions and the heaviest loads (3 tonnes up to 46 tonnes). Another fundamental aspect of the design is efficiency, as in recent decades the company has been introducing innovative systems and accessories in the silos lines to simplify their management, the filling and emptying operations, reduce maintenance… ultimately resulting in time and labour savings for farmers.
Prado Silos shapes the ideal farm silo for each operation
Accessories, capacity, customisation… when it comes to the choice of a specific type of silo, the product will always be personalised and designed for a specific operation, ultimately making each silo unique. In summary, the extensive adaptability of the Prado Silos farm silo line together with high performance storage capacities fulfil the needs of farmers and livestock producers on all scales. The combination of different storage volumes, high quality resistant materials and advanced manufacturing technology ensures that every client can fully rely on the protection and preservation of their crops and livestock supplies, thus boosting sustainable growth and success of their farming business.